Home &raquo About Placer Mining &raquo Excavation
Excavation - Digging for Gold
I am not an expert on mining law - I am just trying to help. Use the information in this website at your own risk. See the Notice at the bottom of this page.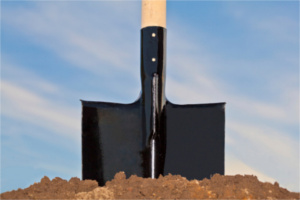 Placer mining involves excavation - digging - from the surface, or underground mining with shafts and tunnels. Excavation can be done by hand or with powered equipment.
Surface placer mining is far more common than underground mining, mostly due to the costs of the equipment, facilities and complying with all the regulations that govern underground mining.
Note that any kind of excavation that involves constructing anything, including retaining walls, must be signed-off by a Professional Engineer.
Surface Mining
Mining from the surface is much like any surface excavation except that the gold-bearing gravels are processed to recover the gold. Physical operations generally begin by removing any surface soil, which is set aside. Any overburden - non-gold-bearing material - is removed and piled. Gold bearing materials are excavated and processed.
Excavation by hand mining is done with the equipment pictured in the top photo.
"Machine digging" usually means hydraulic excavators and backhoes. In most medium-sized operations, excavated material is dumped directly into a wash plant for processing. In some large operations, material is loaded into trucks, which take it to a fixed wash plant.
Underground Mining
Underground mining involves digging shafts and tunnels to reach and remove gold-bearing material. Shafts and tunnels have to be lined, usually with timbers, steel or cement. If the mining is below the present level of the creek, water will flow into the diggings and pumping will be required.

Underground mining is much more expensive than surface excavation on the basis of cubic yards of material moved, but, to reach the same point below the surface, underground mining moves much less material.

During the gold rushes in the 1800s, a considerable amount of underground mining was done to reach gold deposits deep under creeks. It was expensive, mostly because of the cost of transporting anything out to remote gold fields. It also involved a tremendous amount of labor - the mining itself, and, in some cases setting up pumps, to keep workings from flooding, that were powered by water wheels that had to be supplied with water at an elevation above the top of the wheel, requiring ditches and flumes that were miles long in some cases.

Water can be a serious problem. Water-saturated clay can expand and flow, which can exert a tremendous pressure against tunnel linings. Water-saturated silt, called "slum" or "Cariboo slum", can flow like a liquid. In some cases, water can only be controlled by freezing the ground ahead of the tunnel face. In other cases, layers of very hard clay can partially seal off areas below it, preventing water from above wrecking or flooding a tunnel below.
Small-Scale Underground Mining
With enough money, you can mine by hiring a contracting excavation/tunneling company.

It seems that it is possible to do underground mining by hand or with portable tools as long as the operation is just you or partners. Conditions have to be met. If you can be approved at all, you will probably have to have an agreement with a nearby operation that can provide rescue teams if required.

If you use employees or contract-workers, the mountain of mining-safety and workplace-safety regulations lands on you, and makes small-scale underground mining impossible.
---
Notices
Copyright 2011, 2012, 2013, 2014, 2015, 2016, 2017, 2018, 2019, 2020, 2021 by Brian Marshall &nbsp &nbsp brian@bcplacer.com

All images on this website are copyrighted by their owners and they may not be downloaded for other than personal use - republication, retransmission, reproduction or other use is prohibited.

INFORMATION PROVIDED BY THIS WEBSITE IS PROVIDED "AS IS", WITHOUT WARRANTY OF ANY KIND, EXPRESS OR IMPLIED, INCLUDING BUT NOT LIMITED TO THE WARRANTIES OF ACCURACY, MERCHANTABILITY, FITNESS FOR A PARTICULAR PURPOSE AND NON-INFRINGEMENT. USE AT YOUR OWN RISK.
---