Home &raquo About Placer Mining &raquo Claim Jumpers
Claim Jumpers
People Working Your Claim
I am not an expert on mining law - I am just trying to help. Use the information in this website at your own risk. See the Notice at the bottom of this page.
You cannot dig as much as a shovelful of gravel on a placer claim owned by someone who has not given you their permission.

For owners of placer claims and leases, it is important to note that the interpretation of the law has changed over the years. It is not a good idea to shoot claim jumpers and dump the bodies into Antler Creek.

If it is just a person or a family and they are following the rules for Hand Panning, you can do as you please - be nice, be stern, be angry - invite them to lunch or order them to stop digging on your claim. It's your call.

If there is any reason to believe that wash water has been flowing into a water course, or if work is being done that would require a permit (primarily, machine digging), or their work is illegal (working in a park or on First Nations Land) an inspector must be informed as soon as possible. If it seems safe to do so, try to get their license plate details.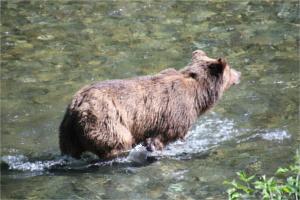 If one or more people are doing a clean hand-operation, you might take a totally different approach. This may seem odd, but you may want them to continue their work and keep all (or a substantial percentage) of the gold that they find.
Such people are effectively doing exploration for you. If they agree to record details about when, where, what they did, number of hours at each site (ie. hole) and how much gold they recovered, this may be valuable information for you and if it is on a claim (as opposed to a lease), you can use their work as at least part of the work required to hold your claim from year to year. If you decide to do this, make sure they realize the importance of keeping track of the time they spend working on your claim and, if possible, the time that they spent before you found them. This time, turned into an amount of money at $25/hr, goes into your Physical Work Report and is the basis for continuing to hold your claim.
You must ensure that reclamation is done (filling holes is usually a lot easier than digging them), mark test sites and keep records. This is also work that can be recorded as work to hold your claim.
---
Notices
Copyright 2011, 2012, 2013, 2014, 2015, 2016, 2017, 2018, 2019, 2020, 2021, 2022, 2023 by Brian Marshall &nbsp &nbsp bmarshal@agt.net

All images on this website are copyrighted by their owners and they may not be downloaded for other than personal use - republication, retransmission, reproduction or other use is prohibited.

Note: This page may contain images from FREEBigPictures.com.

INFORMATION PROVIDED BY THIS WEBSITE IS PROVIDED "AS IS", WITHOUT WARRANTY OF ANY KIND, EXPRESS OR IMPLIED, INCLUDING BUT NOT LIMITED TO THE WARRANTIES OF ACCURACY, MERCHANTABILITY, FITNESS FOR A PARTICULAR PURPOSE AND NON-INFRINGEMENT. USE AT YOUR OWN RISK.
---