Home &raquo Placer Mining in BC &raquo Cutting Trees
Cutting Trees
Getting a Permit or License
I am not an expert on mining law - I am just trying to help. Use the information in this website at your own risk. See the Notice at the bottom of this page.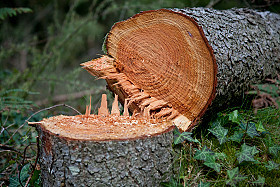 If trees are to be cut to gain access to, explore or mine a placer claim or lease, the miner must obtain at least one of the following from the Ministry of Forests, Lands and Natural Resource Operations:
a Special Use Permit
a Free Use Permit
a Licence to Cut
To obtain one of these permits or licences, you may require a Reclamation Permit (obtained by submitting a Notice of Work) even if you don't otherwise need one.
From The Mineral Tenure Act
Section 11.1(2) of the Mineral Tenure Act, in relation to "Certainty of access to mineral titles" states that an owner of a 2-post claim must be issued a special use permit. Presumably, this also applies to the newer cell-based placer claims.
Section 14(3) of the Act, in relation to "Surface Rights", says that the owner of a mineral claim or lease that is not in production should be able to get a free use permit or an occupant licence to cut under the Forest Act at the option of the government.
Section 14(4) of the Act says that the owner of a mineral claim or lease that is in production or being prepared for production should be able to get an occupant licence to cut under the Forest Act.
Applications
From the FrontCounterBC Natural Resource Applications, where you can select: "Forests" then "Cutting Trees" then "Remove Trees" or you can go directly to the two relevant applications:
Licence to Cut A licence to cut (LTC) is a relatively small forest tenure that allows harvesting in a specific area over a relatively short period of time.
Contacting the Ministry of Forests
I know little about this and the rules change from time to time. A miner that needs to cut trees may contact the Ministry of Forests.
Use of Logs
To avoid legal complications, it is best to use the logs on the claim. If you remove trees/logs from your claim, this may be "logging" crown timber and you probably don't want satisfy the requirements to do this.

If there aren't too many, cut trees or logs can be stacked somewhere and then scattered around when the claim is ultimately reclaimed. A better approach is to trim the logs, burn the branches and use the logs on the claim as part of ramps/ platforms, to improve roads or trails, or cut them into lengths that are easier to handle and let them dry for use as firewood the next year.

Using cut logs to build a cabin or any sort of building is illegal unless you have written permission from an inspector.

Permission to build a cabin is extremely difficult to get - it is illegal to use a placer claim as a recreation site - if you do so and are caught, you could lose your claim.

In any case, when a mine-site is reclaimed, any buildings or structures must be dismantled.
---
Notices
Copyright 2011, 2012, 2013, 2014, 2015, 2016, 2017, 2018, 2019, 2020, 2021, 2022, 2023 by Brian Marshall &nbsp &nbsp bmarshal@agt.net

All images on this website are copyrighted by their owners and they may not be downloaded for other than personal use - republication, retransmission, reproduction or other use is prohibited.

Note: This page may contain images from FREEBigPictures.com.

INFORMATION PROVIDED BY THIS WEBSITE IS PROVIDED "AS IS", WITHOUT WARRANTY OF ANY KIND, EXPRESS OR IMPLIED, INCLUDING BUT NOT LIMITED TO THE WARRANTIES OF ACCURACY, MERCHANTABILITY, FITNESS FOR A PARTICULAR PURPOSE AND NON-INFRINGEMENT. USE AT YOUR OWN RISK.
---