Home &raquo Placer Mining in BC &raquo Fraser River
The Fraser River
Working Inside the Channel
I am not an expert on mining law - I am just trying to help. Use the information in this website at your own risk. See the Notice at the bottom of this page.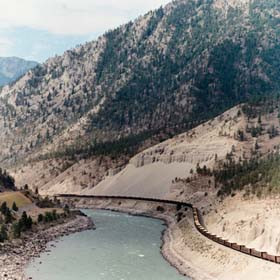 The Fraser River is the only river or stream in BC where machine digging is permitted on bars in the river channel.

There are rules, of course. They are called "guidelines", but I believe that a reclamation permit (required for machine digging) makes them "rules" that must be followed.

These rules include (but are not limited to):
all operations must be "in the dry"
sluice, tailings, pond at least 10 metres from water
no storage of fuel on gravel bars
mining activities only in un-vegetated parts of the bar
diggings must be filled and leveled as gravel is processed
And, as usual, no dirty water from a placer operation may flow or visibly seep into the river.
Season and Water Level
Fraser River bars can only be mined very early in the season (possibly as late as early-June) and after the water has gone back down (possibly as early as late August).

When working on the Fraser bars with equipment, it is important to keep an eye on the river. The level of can rise quickly and equipment (like excavators) can be lost.
Always More Gold
The Fraser River is always carrying gold. When the water is high, the bars act like giant sluice boxes, trapping gold between gravel and cobbles (small boulders). Most of the gold is fine, much of very fine. Sluice boxes should be designed with this in mind. Catching the coarse gold is fairly easy. Catching the fine gold is much more important.

See Fine Gold for more information.
Machine Digging
Fraser River bars are good for machine digging. Gold is trapped in the tops of bars every year. Processing just the top foot or so may recover the majority of gold on the bar that is "in the dry" (you can't work deeper than the dry material in the bar). It is worth testing to see if any deeper material is worth processing.
---
Notices
Copyright 2011, 2012, 2013, 2014, 2015, 2016, 2017, 2018, 2019, 2020, 2021, 2022, 2023 by Brian Marshall &nbsp &nbsp bmarshal@agt.net

All images on this website are copyrighted by their owners and they may not be downloaded for other than personal use - republication, retransmission, reproduction or other use is prohibited.

INFORMATION PROVIDED BY THIS WEBSITE IS PROVIDED "AS IS", WITHOUT WARRANTY OF ANY KIND, EXPRESS OR IMPLIED, INCLUDING BUT NOT LIMITED TO THE WARRANTIES OF ACCURACY, MERCHANTABILITY, FITNESS FOR A PARTICULAR PURPOSE AND NON-INFRINGEMENT. USE AT YOUR OWN RISK.
---